Baseball Canada unveils exciting DQ® Rally Cap App update!
---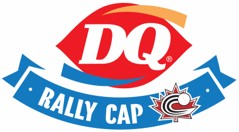 OTTAWA-With baseball season in full swing across most of the country, Baseball Canada is thrilled to announce that our DQ® Rally Cap App has been updated with loads of video and resource content for coaches.
"The update is something that will really take the DQ® Rally Cap program to another level for coaches," said Baseball Canada's André Lachance. "Incorporating video content into the app gives initiation coaches another tool to utilize when planning practices or even at the field."
Introduced in 2015, the DQ® Rally Cap App provides practice plans, tips, drills and now video content to give coaches all of the coaching information needed to run a successful Rally Cap program.
"Our goal is to make the DQ® Rally Cap program as 'turnkey' as possible in order to provide coaches, athletes and parents with the best baseball experience possible," added Lachance. "The app adds to the list of resources that helps make Rally Cap the best initiation baseball program around."
Baseball Canada launched the Rally Cap program in 2006 as an introductory level of baseball for kids ages 5-9. The program is an initiative to enhance players' and coaches' first experience with the game. The program helps teams teach players the FUNdamentals of baseball in a fun and safe environment. Players have the opportunity to perform different tasks in order to earn a colored Baseball Canada Rally Cap. The Rally Cap program is an outcome of Long Term Athlete Development (LTAD) program developed by Sport Canada.
In 2016, Dairy Queen® Canada became the exclusive and title sponsor of the DQ® Rally Cap program.
DQ® Rally Cap App!
Android: https://play.google.com/store/apps/details?id=com.crowdtorch.canadabaseballrallycap
iOS: https://itunes.apple.com/us/app/baseball-canada-rally-cap/id1057365332?mt=8